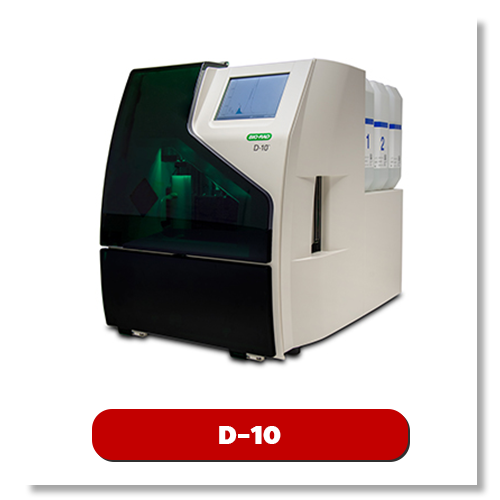 D-10
          D-10 Hemoglobin Testing System​ The D-10 instrument provides comprehensive, automated hemoglobin testing in a compact footprint. Combining HbA1c and HbA2/F/A1c testing on a single platform, the system offers simple, efficient operation for clinics, physician offices, or clinical laboratories. Easy to use, the D-10 includes multilingual operational support.​ Developed for flexibility and reliability, the D-10 features an automatic system startup checklist and touch screen operation. One-step cartridge switching, automatic sample bar code reading, remote support, interfacing with the laboratory information system (LIS), and the option to export the chromatogram all contribute to increased workflow efficiency.
          Whole blood primary tube sampling eliminates offline sample preparation. Separate programs for fast HbA1c or HbA2/F/A1c quantitation further simplify workflow. Onboard QC monitoring ensures reliable results. At only 15.8 inches (40.2 cm) wide by 21 inches (53.4 cm) deep by 19.5 inches (49.5 cm) high, the D-10 requires a minimum amount of laboratory space.​ Review and print results through any network computer. Calibrated peaks are colored and all peaks are labeled to help make chromatograms easy to read.
          This high-performance platform sets a new standard to aid clinicians in the diagnosis of patients living with diabetes, as well as monitoring existing patients. Deliver a full clinical picture in fewer steps with the D-10 System. D-10 Rack Loader​ Add capacity to the D-10 and streamline workflow with the D-10 Rack Loader and improved system software. Technicians can load up to 50 samples for walkaway analysis without user intervention, with the flexibility to load samples as they become available. Load all kit reagents at once, with no need to change buffer bottles in the middle of a kit.
          Flexibility is further enhanced with STAT sample processing.​ The D-10 Rack Loader upgrade can be added to an existing D-10 Hemoglobin Testing System in a single service visit. Increase capacity only when needed, save time and money on crossover studies and training, and streamline laboratory operations with this D-10 enhancement.

D-100
The D-100 is a truly unique HPLC system to measure HbA1c without interference from common hemoglobin variants. It uses innovative solutions to maximize workflow efficiency in medium to high volume laboratories. One-touch operation and buffer changes on-the-fly dramatically reduce operator hands-on time in a busy laboratory.
With a sample throughput of 80 tests per hour, it produces gold standard HbA1c results that are automatically reviewed and flagged, dramatically streamlining result review. The software interface is easy to use, and designed to maintain continuous operation with timely system alerts before a problem occurs. The D-100 is the future of HbA1c testing.

Variant II Turbo
          The VARIANT II TURBO Hemoglobin Testing System combines Bio-Rad's HPLC precision and variant detection with fast throughput to provide a comprehensive solution for HbA1c testing. VARIANT technology provides a comprehensive solution for HbA1c testing. Built for exceptional performance, the state-of-the-art, fully automated VARIANT II Hemoglobin Testing System delivers quality results at high test volumes — providing results in 97 seconds per sample.
          The VARIANT II Hemoglobin Testing System offers complete automation, with positive sample tracking and powerful data management. Save time and minimize errors with whole blood primary tube sampling — no costly manual preparation required. Streamline workflow through continuous or batch sampling. Results and chromatograms are captured and archived by Bio-Rad's Clinical Data Management (CDM) software.
          CDM provides remote support and interfaces with laboratory information systems (LIS) for optimal data management. Advanced diagnostics, user alerts, and prompts reduce costs and training time, while the QC Module tracks quality control.